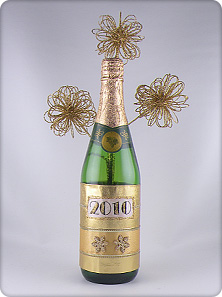 Difficulty - Easy
Materials
Small piece of gold metallic wrapping paper

Assorted pieces of gold ribbon

Gold glitter glue

3 gold snowflakes or other mini-ornaments

Fancy paper for printing the 2010

Gold glittery three pronged holiday pick


Instructions
Cut a piece of metallic wrapping paper the length to wrap around the wine bottle plus 2 inches and ½ inch longer than the desired width of the band.


On the wrong side of the paper, fold each edge in ¼ inch. Using glue stick, apply glue to the inside of the paper, especially around the edges, and fold the paper in half to form a band.






Print out "2010" in a decorative font onto a nice piece of paper. Cut it out into a rectangle and decorate the numbers with gold glitter glue. Let dry.






Decorate the band with pieces of ribbon and holiday accents. Attach the 2010 to the center top of the band and outline it with glitter glue. Let dry.






Tape the glittery pick to the back of the bottle so it can be easily slid out when it is time to pop the cork.




Note: This holiday pick was purchased at a Michael's craft store. They come in different metallic glittery colors.



Apply double-stick tape to the wrong side of the band and attach it to the bottle, overlapping the ends where the pick is attached to the bottle.






Wrap a ribbon around the bottle neck and attach it with double-stick tape. Trim the tails to match lengths and cut the ends into a V shape. Glue a holiday accent to the bottle where the two ribbons cross to complete the design.